When it comes to meal planning for the week, it's so easy to over-complicate it. We've been told by the media and other sources that specific and special rules need to be followed in order to eat healthily. However, if that's not working for you, it's okay to start fresh and try a more flexible approach to meal planning. I've outlined 10 of my favorite ways to make meal planning quick and easy for the family, while still being healthy and making dinners that we enjoy.
1. Meal Plan with recipes that can accommodate slight variations –
If you have some recipes in your life that you know your family loves, by all means, keep using them! Are there some variations to mix up the flavors or sneak in a few extra veggies? I love creating burrito bowls like this one for my family, because it's easy to make, the kids can choose to include or leave out whatever they want, and I can mix it up with different meats and veggies to make it feel like a different meal each time I make it. Think through your "go to" recipes and see how you can mix it up to make it feel new again.
Also, do you ever notice how it takes SO LONG to make a new recipe? But, the second and third time, you can almost cut the prep time in half when you know what you're doing and what you need to cut up. When you can use the same recipes over but just mix up a few ingredients, it saves so much time for cooking!
2. Order groceries online for delivery & make a list of your "go to" meal planning items –
By far, the best investment for your time and money is getting your groceries delivered. For one, it saves you a ton of time to have someone else do the shopping for you, and second, you don't end up with a cart full of unexpected purchases, which is a huge savings! I recommend ordering your staples through delivery every week and the ingredients you know you will need for the week. Then, for any one-off items, we have a small grocery store down the street that only takes a minute for me to hop in and out and grab any of the final items. This way, I can hand-select produce I might prefer to pick out on my own or have a chance to pick up those things that weren't able to be found through delivery.
3. Get some of your meals delivered & cut out meal planning altogether –
I've started using Hello Fresh to deliver 2 meals a week for our family and so far, I am loving it! It saves so much time not having to think about what I'm going to make that day, and Hello Fresh even has 20-minute meal options, for us busy mamas who are on the go!  I also have been saving the recipe cards that come in the box so I can remake those recipes later (see #1 about saving time by making similar recipes).
4. Use simple guidelines and avoid strict rules or diets –
I have personally been through my fair share of meal plans and programs, which can be so helpful at times, but one thing that is for sure is that the more strict the ingredient list for your meals, the longer it takes to shop for them and make them. I remember trying to make a meal once that adhered to the whole 30, and I had to go to 3 stores before I found the special kind of flour they wanted me to use.
When it comes to saving time while still working towards goals like losing weight, I recommend sticking to general guidelines like the ones that can be found at Choose My Plate, Harvard's Healthy Eating Plate, or The Canada Food Guide.
5. Find your "go to" sauce packets that make skillet dinners easy –
Dinner is so much better when it is seasoned well, but seriously, who has time to remember to marinate meat? Definitely not me. I love being able to keep some trusted sauces in my cupboard to be able to make a skillet dinner that tastes great. I love the Frontera sauces because they have a simple list of ingredients and taste great.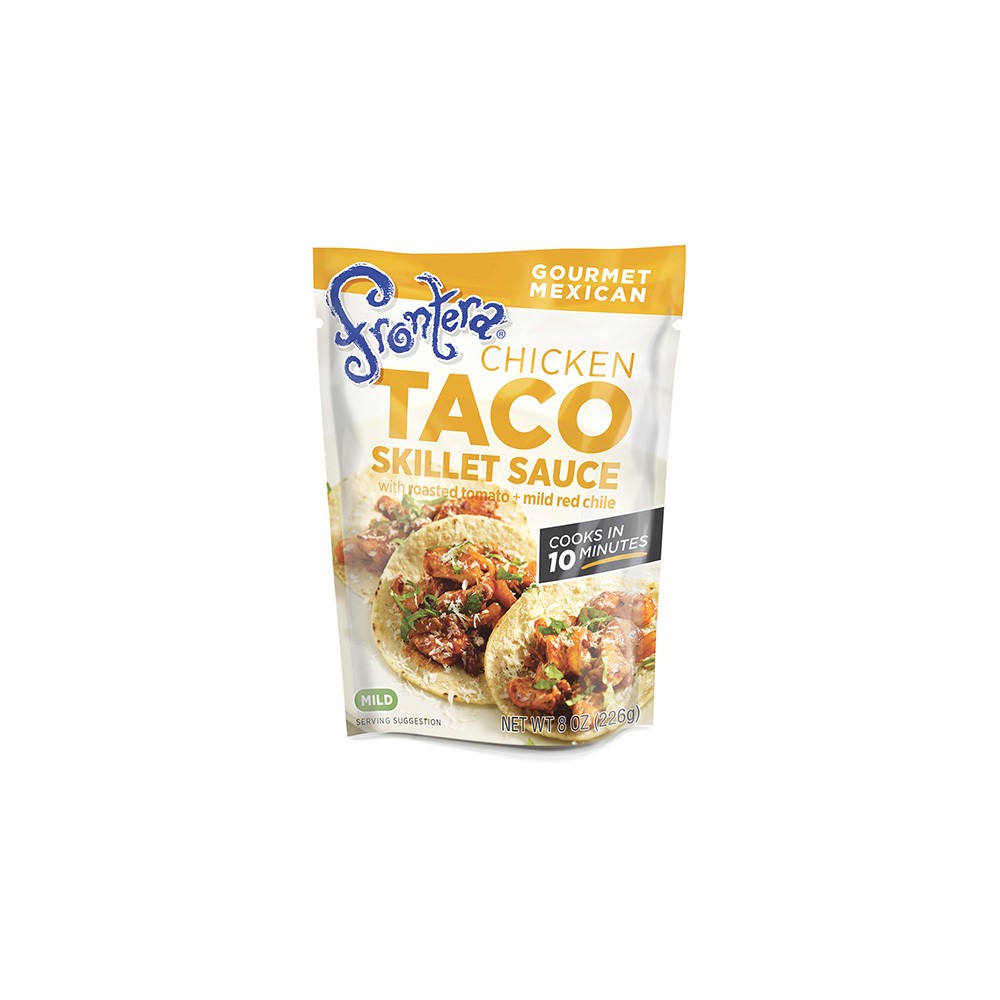 6. Post your meal plan for the week and solicit help (folder idea) –
Here is my favorite trick when it comes to meal planning. This is gold, so you better be ready for this. I have a three-ring binder with plastic sleeves that are labeled for every day of the week. As I find recipes online that I love (or I get recipes from Hello Fresh), I store them all in this three-ring binder. Then, at the beginning of the week, I go through those printed recipes and decide which I'm going to make for the week and then slide them into the sleeves. I also have some slips of paper that say "leftovers" and "Out to eat", so I can fill in something for each day.
Then, here's the key – You tell your family about this binder so they know exactly where to find out what's for dinner and how to make it. The rule in our house is that if you're the first one home from work, you're in charge of starting dinner. And since the recipes are all right there in the binder, it's easy for anyone to get started chopping and prepping for dinner.
Bonus Pro Tip: I also have a sleeve labeled for this month's meals, and I pre-select about 12 – 14 meals for that month and so some of those will get repeated in the month, which will naturally shorten the cooking time (see #1). I also will double up a few of the recipes that I know will save or freeze well so that there's plenty for leftovers or for defrosting and cooking later.
7. Think One-Pan Meal Planning Ideas –
One pan meals are basically my favorite way to make dinner. There are so many easy and healthy options with one-pan meals, and I love them because you can cook your veggies and your protein all on one pan, so clean up is simple and the cooking process is easy! There are basically an unlimited assortment of recipe ideas for one plan meals on Pinterest, which is where I've found a few of my personal favorites.
8. Make extras for later –
I mentioned this in #6, but doubling up a recipe once a week makes life SO much easier. Choose a meal that will freeze and reheat well, and it basically gives you a night off of cooking for a future night! Just reheat and it's ready!
My favorites for this are ground turkey tacos or enchiladas and soups, because there isn't a lot of other prep you need to do for these dinners.
9. Think outside of the "dinner" box –
Who said eggs can't be for dinner? Making breakfast for dinner is one of my family's favorite things to do. I will actually play it off like a special night when I do this, because the kids like it so much, and why not try to squeeze out some good behavior while I'm at it? 😉
This sweet potato hash recipe is one of my all-time favorite ways to make eggs for dinner in a way that the whole family still loves.
10. Allow for flexibility in your week –
Sometimes like is spontaneous, so your meal plan needs to allow for that as well. I generally recommend only getting enough ingredients for 2 or 3 nights ahead. That way, if something happens and you need to change up the meal schedule, you don't feel like food is going to waste. It's also so helpful for those times when you have more leftovers than you accounted for and you get to have a "mix and match" meal night to help clean out the fridge.
My favorite tip out all these is #10. It's been life-changing for my family, and I hope you'll try it and see how it works for you. But, I know I'm not the only one with creative ways to meal plan for the week. What are some of your best tips for successful meal planning for the busy mom?