Before I jump into my recommendations, I want to let you know that some of the links below are affiliate links, which means I may earn a small commission for things you purchase directly from those links. Your purchase helps support my work in bringing you real information about health & wellness and keeping my coaching fees reasonably priced. 
The important thing to know is that setting yourself up for an awesome week shouldn't take a ton of time (a.k.a. meal prepping all day long). No mama in the world has time to hang around the kitchen on a Sunday chopping and freezing meals. So, rest assured, that this is not one of the tips listed below.
That being said,
1. Have a 10-minute "power meeting" with your significant other/yourself
You're talking to a prior Project Manager who is married to someone who runs SCRUM meetings, so it's not a foreign thing to have scheduled meetings on our calendar to talk through various topics. (Nerd alert! We're not the only ones who do this, right??)
During naptime on Sunday, we always make a point to sit down and talk about:
What activities are going on that week (For the parents and the kids! Any happy hours scheduled? Any late-night meetings? Any evening kids activities?)
Who is picking up/dropping off kids at school/daycare on which days
What odd things are happening this week that might throw off the schedule
Anticipate the logistics & needs of any events coming up (this relates to #4 below)
2. Have a place where you write down your "tentative" meal plan for the week and everyone in the family can see it. 
During my first maternity leave, I thought it would be a great idea to take on putting together a "command center" wall in our kitchen. It ended up taking about 20 weeks to complete, but we use it every day. Looking back, something simpler would have been equally as effective, but I'm a "go big, or go home" kind of person, so, you know…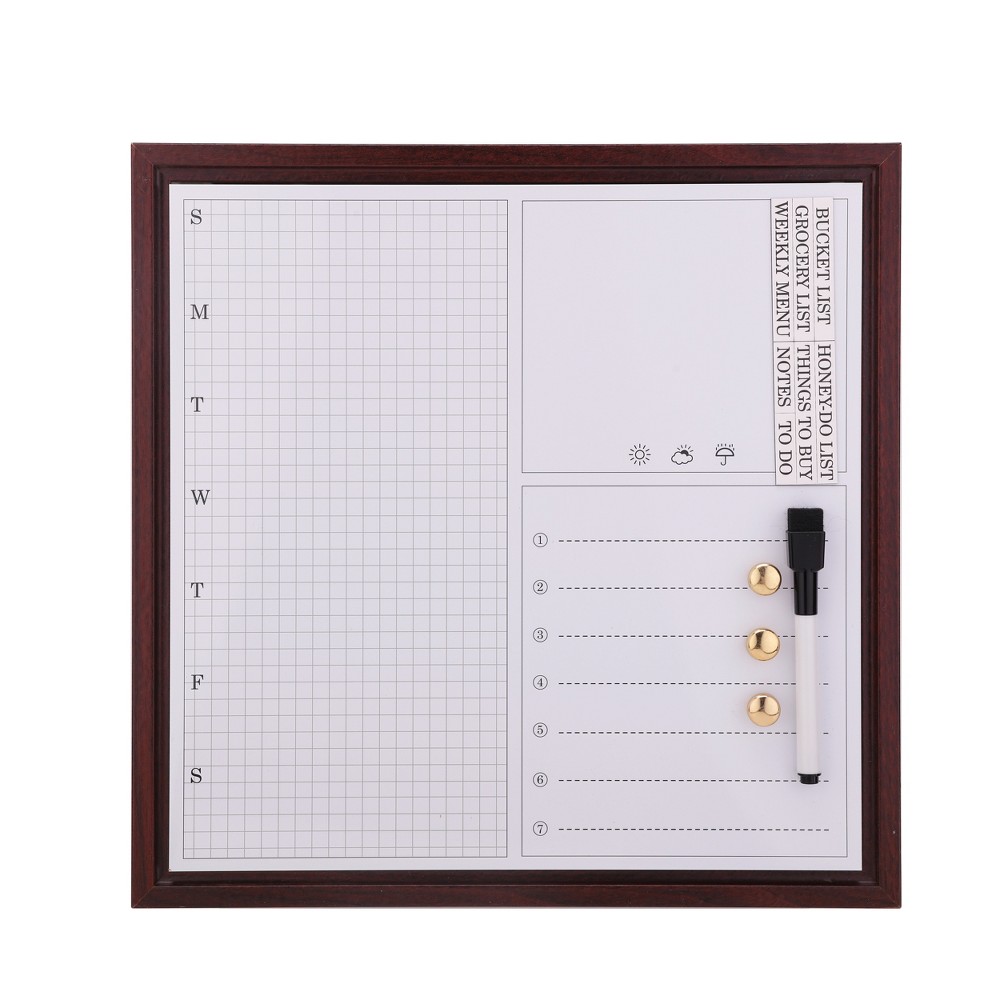 Anyways, one of the things I incorporated into this "command center" was a whiteboard where the weekly menu is displayed. I've found this to be especially helpful for mornings where I'm rushing out the door, I can look quick and remember what the dinner plan is, which in turn, helps me visualize a plan coming home. But, it's also great for the person who gets home from work first because they can look at the board quickly and start making dinner instead of having to wait for the other spouse to get home to talk about it. Also, flexibility is key. Having a particularly insane day at work? No problem, swap out your meal plan for some Chipotle and you're set. Just try to keep the audibles to one night per week. Life happens, so don't stress if the menu has to be changed up once in a while. 🙂
Regarding meal planning, we've learned a few tips on making weekly meal planning work for us:
Only buy food for meals up to 3 days ahead at a time.
Make extra – you can freeze it for quick reheating another night.
 Schedule in leftover nights so you don't throw away unused food.
Have a rotating list of your top 10 – 12 meals.  If you think about it, with leftover days and an occasional night out to eat, you can likely get through the month repeating your list around 2 1/2 times. And, once you make a recipe once or twice, the time to prepare it and make it gets quite a bit shorter, so it's super-efficient to have a few "go-to" recipes rather than try something new all the time.
3. Clean out your purse/bag/work bag
Life is just so much less crazy when your purse isn't a bottomless pit of receipts, empty food pouches, and wrappers. After a weekend of toting around kiddos, your bag gets filled with tons of little people paraphernalia, so do a quick clean out and you'll probably notice yourself feeling less stressed when you're looking for your car keys come Monday morning.
4. Do at least one load of laundry
There is nothing that turns me into a crazy mama more than running behind because your 3-year-old is being a stinker about xyz (insert your favorite toddler tantrum here), and I can't find that ONE shirt I need to wear today.
After completing #1, determine what you'll need to wear and if you have no other time for laundry, at least just wash a load with the essentials.
5. Spend 10 minutes "snack prepping" (a.k.a cutting up veggies and fruit)
As a result of my many diets and "food experiments" over the years, I vowed that meal prepping on the weekend was something that I was not going to make a regular habit.  So, enter my food prep compromise:  Choose 1 – 2 fruits and 1-2 veggie snack options for the week. Then, wash, cut and baggy everything so that you can literally "Grab n' Go" your favorite healthy snack options. No more grabbing snacks from the vending machine at work and then having major food guilt! We'll save that for the chocolate cake we chow down after the kids go to bed.
6. Go to bed early (or at least try)
To be honest, this last point is one I am actively working on as well. It's hard to go to bed early when you have constant "to-do" list in your head and you're a creative mind! But, getting to bed at an early time will help you feel rested going into Monday. When you can start your Monday feeling refreshed, it only helps the rest of your week to go a little better.
So, try these out! Do you have to be 100% on top of this list in order for it to work? Not at all – no one is perfect. But, knocking out one or two of them to start and them working your way up each week will go a long way to a less hectic week and a less crazy mama life!
I'd love to hear from you as well! Comment below about what you do to tame down the crazy in your life.